1.3 million eligible Arizonan voters aren't registered to vote. Many of them are young and Asian American, Pacific Islander, Latinx, African American, or Native American.
Let's register to vote and make a difference!
For additional voter registration information including changing your party affiliation and other options, visit the Arizona Voter Info Portal below.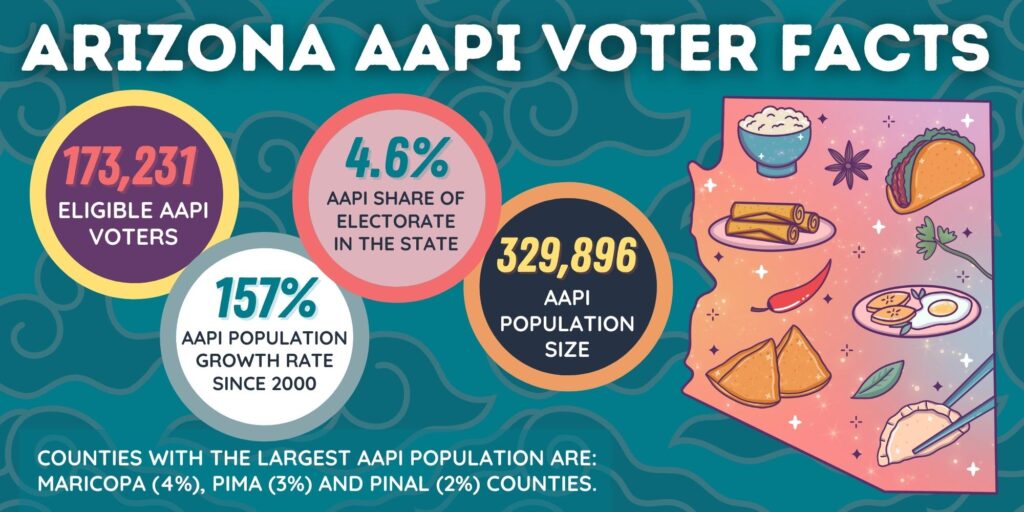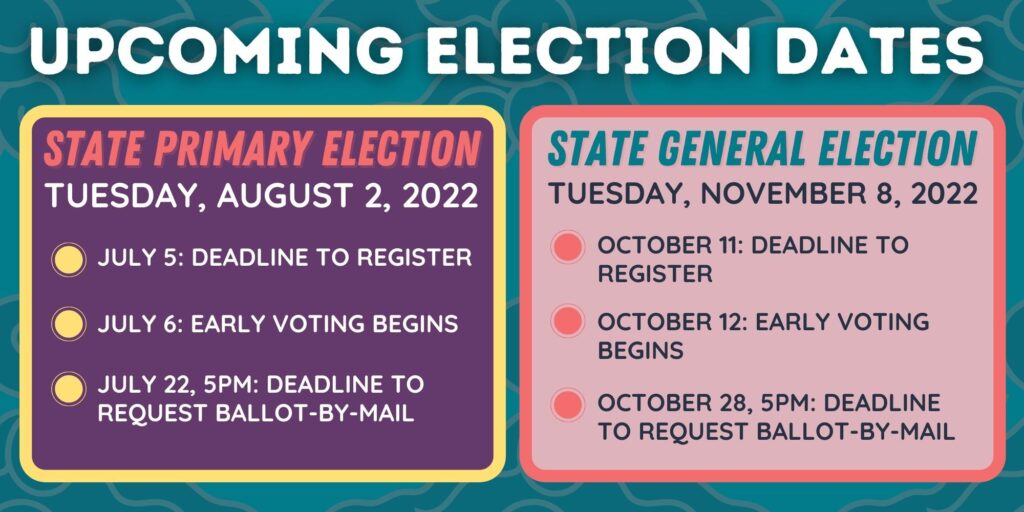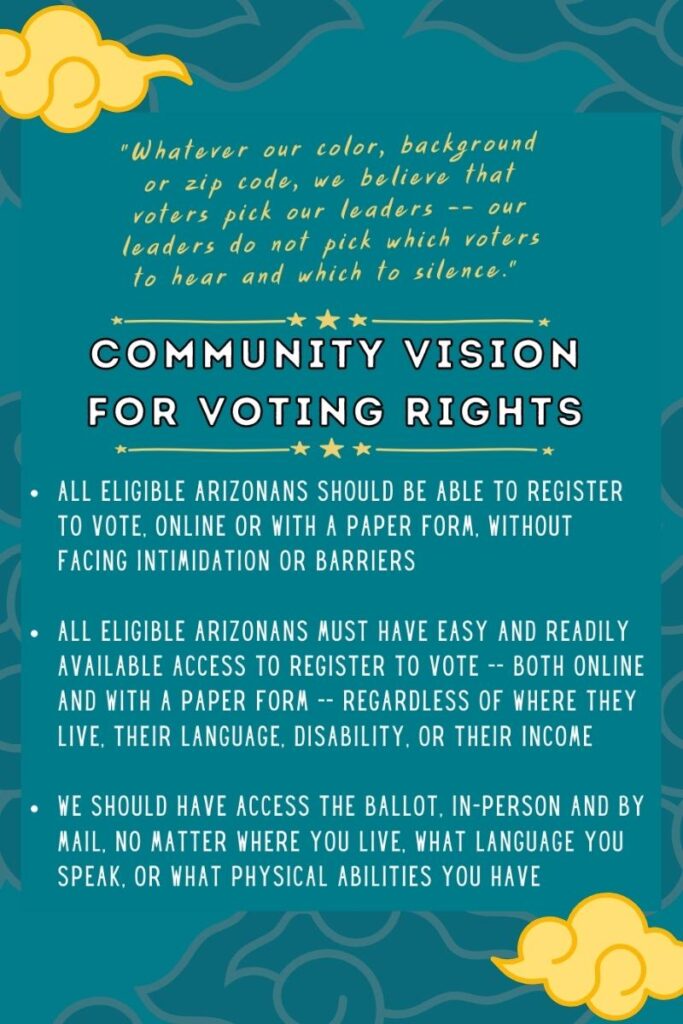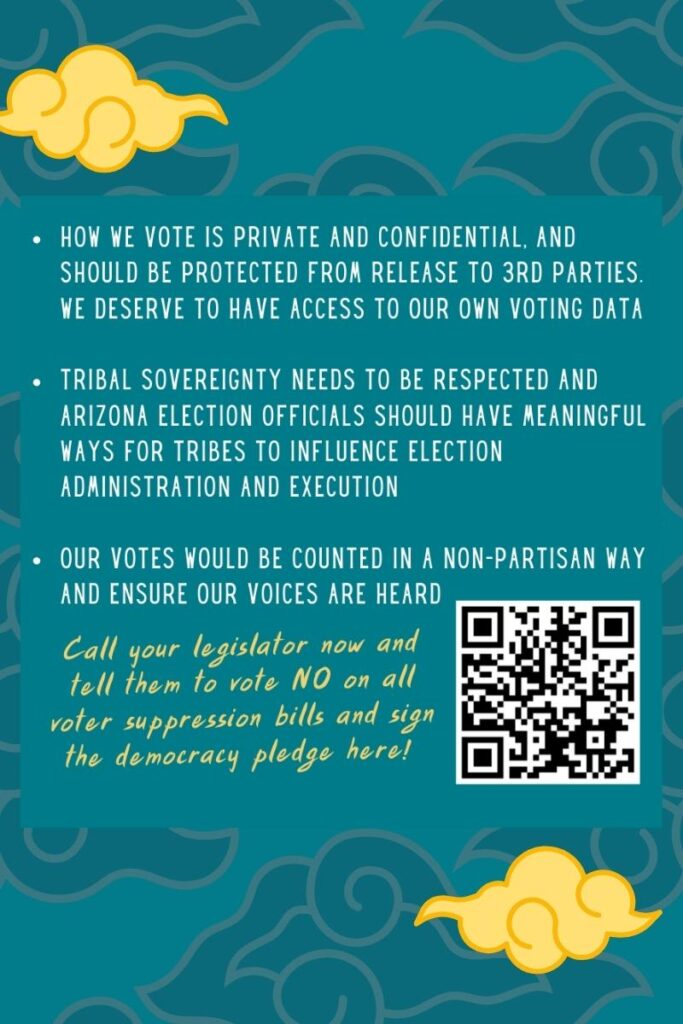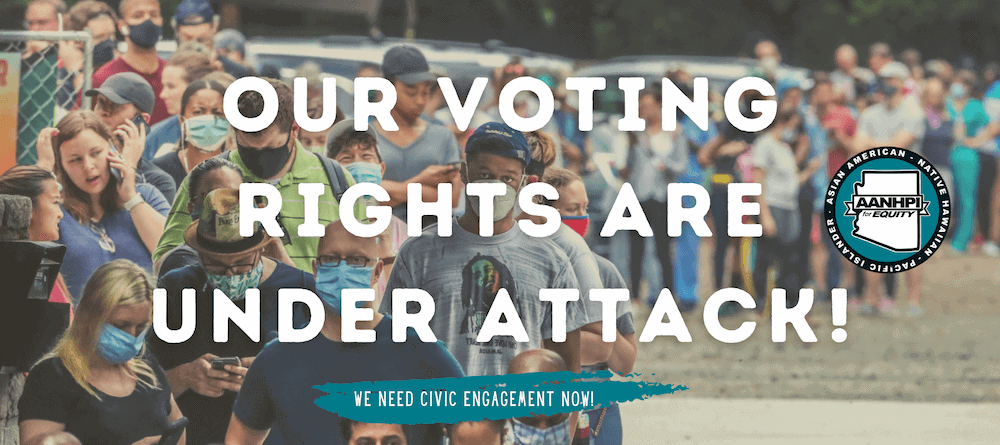 Help us spread the Democracy Pledge to let our legislatures know we need them to prioritize democracy and our voting rights! No matter our color, background, or zip code, all Arizonans value our freedom to vote. We deserve practices that protect our access to the ballot and leaders who will protect our democracy.
AZ AANHPI for Equity is here to inform and facilitate the community through the voting process. Check these links for resources to help you register, learn, and access information in multiple languages.
There are roughly 100 voter suppression bills in 2022's Legislative Session. Voting for bills that expand voting rights will counteract voter suppression: Keep Cyber Ninjas away from our ballots and costing our tax payer's dollars; Secure early mail-in ballots (SB2289); Let third parties assist with voter registration (HB2492); Stop criminalization of election workers; Keep drop boxes for voters in tribal communities and rural neighborhoods; Make voting more accessible and correct obstacles given to voters.
Legislators are trying to restrict access to gender-affirming care and interfere with standards of care for transgender youth (SB 1138). Trans girls are in danger of being banned from competing in sports and a ban would disrupt school athletics for all girls, subjecting them to increased scrutiny and surveillance (SB 1165). Voting would let legislators know that you do not accept homophobia in government and can shift culture to be more accepting for future generations.
Arizona has the third-worst dropout rate. Arizona was ranked as the worst in pupil-to-teacher ratio. Overall, Arizona is ranked 49th in public education out of the country. Voting can encourage elected officials to fund public education. School vouchers are taking up public education funds and only benefit charter schools. Charter school companies lobby to keep our education system down for their own profit.
We need to manage precious water resources and protect our future generations. Arizona faces a dramatic rise in extreme heat and humidity. Phoenix is the 2nd fastest-warming city in the U.S. Arizona already averages more than 50 dangerous heat days a year, the second highest in the nation. By 2050, Arizona is projected to see almost 80 such days a year. A warmer future means more wildfires. Currently, AZ lacks funding for our forestry department. There are currently more inmate fire crews than civilian crews. Depending on who we elect as governor, we can demand them to prioritize more funding to protect our cities from wildfires. If we have corrupt elected officials, they can sell out our resources to large corporations for their own benefit while sacrificing the lives of our future generations.
According to the National Conference of State Legislators, 71% of legislators were white/caucasian in 2015. According to the 2020 U.S Census, it was found that Arizona is diversifying as it grows. We need to diversify our voters so we do not represent only one group, but all groups, especially those communities that are marginalized. This year, they introduced a bill that would require schools to teach AAPI history and conserve our culture here in AZ. There are also bills that correct racial disparities, for example, making it illegal to discriminate against hair styles that are unique because of a person's culture or ethnic background.
Elected officials can choose to prioritize affordable housing if we call for it. Instead of elected officials approving more luxury developments, we can fund an Eviction Crisis Prevention plan here in AZ. Colorado has a bill that asks to fund $3 billion towards people who are in danger of being evicted. There are other states that make deals with luxury apartments and condos to include low income housing. There is no reason for large real estate companies to come into our state and not be a part of addressing homelessness.
voter eligibility information
To vote in Arizona, you must be a citizen of the United States and a resident of an Arizona county. A voter must be 18 years or older on or before Election Day.
To be eligible to vote in an election one must register at least 29 days prior to the election. Individuals can register online, in person at the county recorder's office, or by mail.
Individuals must provide proof of citizenship when registering if they wish to vote in state and local elections. Acceptable forms of documentation include birth certificates, passports, and U.S. naturalization documents. On June 4, 2018, Secretary of State Michele Reagan (R) announced that proof of citizenship would not be required of individuals who have already provided such proof to the state department of motor vehicles. Reagan also announced that the state would allow individuals who registered without providing proof of citizenship to cast ballots in federal elections (though not in state or local elections).
These are the acceptable forms of voter ID in Arizona.
In order to create a Request to Speak account, you must register AT THE CAPITOL on the kiosks in their lobby. Once you register your account, you can rate and comment on bills or sign up to testify at the hearing.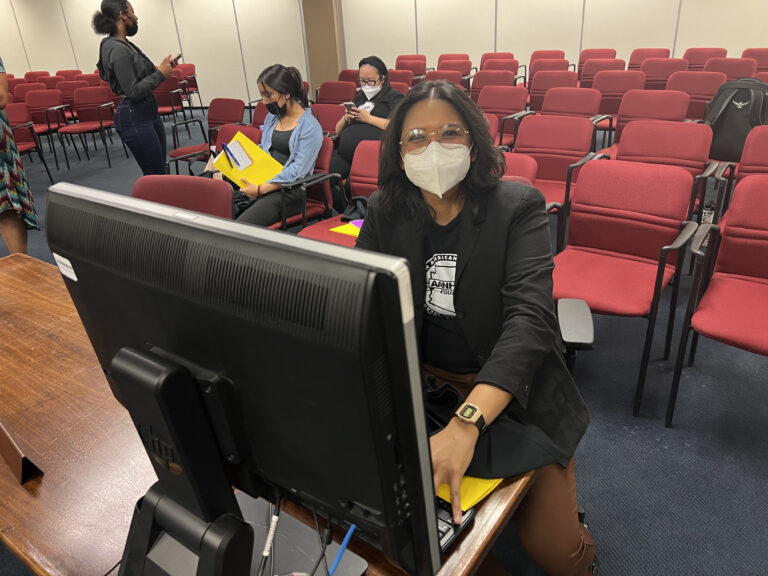 INDEPENDENT REDISTRICTING COMMISSION
PUBLIC HEARING
The Arizona Independent Redistricting Commission (IRC) invited residents to participate in its first round of statewide public hearings from July 23 to August 9, 2021. AZ AANHPI for Equity participated in one of the public hearings in Tucson.
From left: Faith Ramon (LUCHA), Sandy Ochoa (Mi Famila Vota), Jennifer Chau, LAN Hoang, Dorothy Lew, Lewis Lew, Priya Sundareshan (AZ AANHPI for Equity)